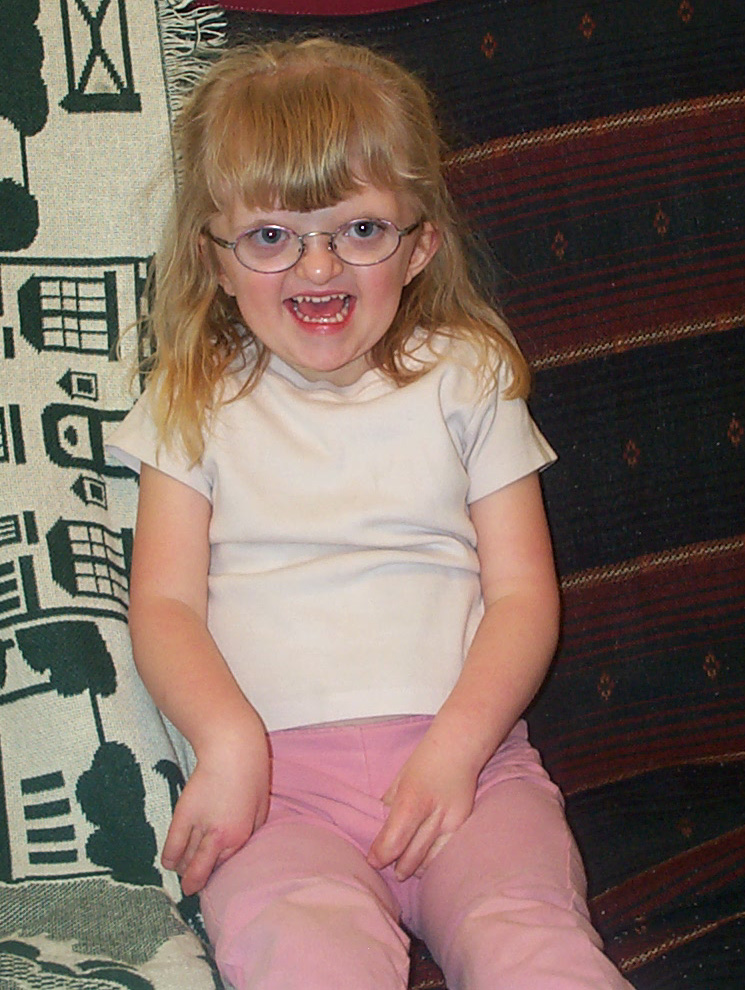 Brooklyn came into our lives in 1997. We brought her home on Christmas Eve in a Christmas stocking; she is the best Christmas present we have ever received! We didn't know she had Apert Syndrome until she was born, and we saw her little mitten hands. The hospital was as surprised as we were, giving us what little information they had. The information was outdated. During the many tests immediately following Brooklyn's birth, her Daddy's voice was the only sound that would comfort her and quiet her cries. She is still very much a Daddy's girl.

Brooklyn has had her fair share...actually, in our eyes, MORE than her fair share of doctors, surgeries, and illness. We know far more doctors than we ever thought we would. And although we know more than we'd like, we are also thankful for the excellent care they have given our little girl. Brooklyn has had three hand surgeries and now has five fingers on her right hand and four on her left. She has amazed us with her ability to adapt. She had her first head surgery at 6 months in which her forehead was advanced and her sutures widened for brain growth. She also showed an early career choice of banking when she swallowed a dime, which led to many dilatations, surgery, and eating troubles. Of course, it seems with most surgeries/medical procedure there have been complications or infections. Brooklyn has weathered it all and has shown that she is one tough cookie!!

Our Brooklyn is a happy, little four-year old who likes eating ice cream, playing with Dad, sitting on little sister, and helping Mom. Her little sister, Alexa or "Lex" as Brooklyn likes to call her, is her "best buddy." The two of them come up with all kinds of fun games like throwing cereal on the floor and listening to it crunch under their little toes. She enjoys pre-school and her teacher. She loves the bus and talks more about it than actual school. She loves to chatter to her stuffed animals. Her smile sparkles and her big, blue eyes twinkle. She loves to joke with us and always says, "I'm just TEASING!" Then she giggles like crazy. We are often amazed at her love of life. She is SO happy, even when she's sick. She is beautiful and is cherished in our family. We love her so!