On 2 May 2006 Samuel John Noel Christie was born in Waikato Hospital, Hamilton, New Zealand. It was a rocky start and a shock to our family, however Samuel's determination to be here was overwhelming. We all fell in love with our Samuel the minute we saw him – there was strength in those eyes and also a twinkle which is still there!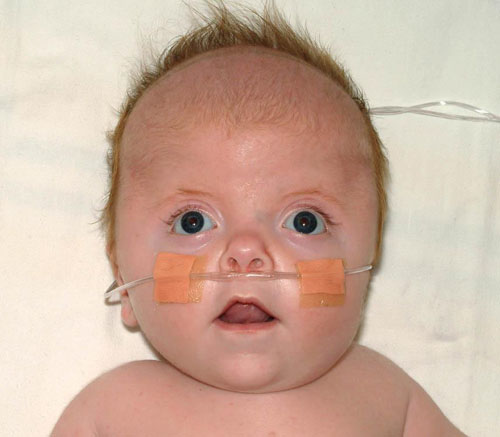 Samuel had his first cranial operation at six months at Starship Hospital in Auckland. That was extremely emotional for us all, and Samuel came out of theatre on life support in a morphine induced coma. On day three we were greeted with the most beautiful smile, and this little boy sitting in his bed waiting for his mum and dad. We felt like we had won the lottery, as our boy was back with us.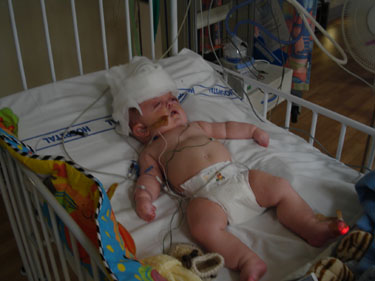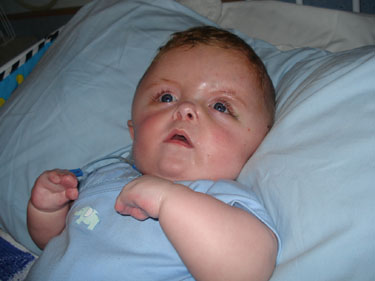 At 11 months Samuel had his first surgery on his hands which are from what we have seen and can tell quite severe. The surgery was hours longer than anticipated, and the wait almost unbearable, however we got there in the end. Samuel had a few difficulties straight after surgery with his wind pipe swelling, and his breathing was very strained. Once that was sorted lumps started appearing on his head from the pressure of lying in surgery for the length of time – so a pretty scary day for us all. The next day however Samuel was starving for food and a bottle, and once again we had smiles and a happy wee man. The following six-eight weeks were long, with dressings either daily or every second day, a variety of infections both in his hands and in the skin graft areas – and of course a wee man who insisted on biting off the bandages at every opportunity. Nothing stopped him though and there were few things he couldn't manage with those hands bandaged. Not one cry from him (a few from his mother) at the bandage changes – we knew when it hurt as he lay back on his dad but never once pulled his hands away from nurses changes bandages. His big sister always there with encouraging words about her "brave wee man".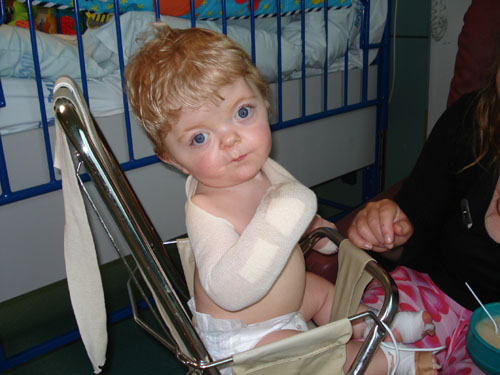 Since then Samuel has grown and evolved into an amazing wee man. He is now 17 months old, and we are soooo proud of him. He is adored by us all – especially his big sister Lilly who is 4 ˝.

Samuel is doing everything a 17 month old child does – he is walking and is desperate to run. He climbs on anything he possibly can – and he manoeuvres objects so he can climb higher – you cant take your eyes off him for too long or he has pulled chairs up to the bench to get up on the bench to get things. He is full of smiles and kisses and hugs – extremely vocal – very social – and lots of fun. We honestly never thought we would be where we are now in those early days – our diagnosis was so grim initially – more I think from not being aware of what Apert Syndrome actually is as we were the first Apert baby born in Waikato Hospital. Samuel definitely wasn't listening to any of it – and he is doing great.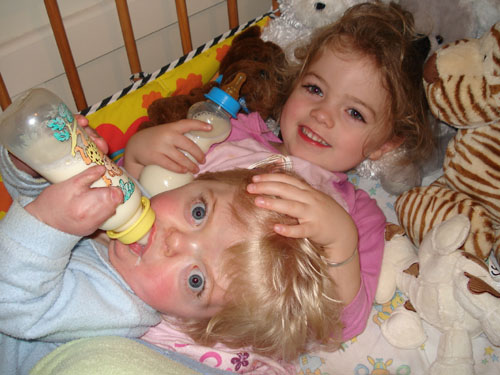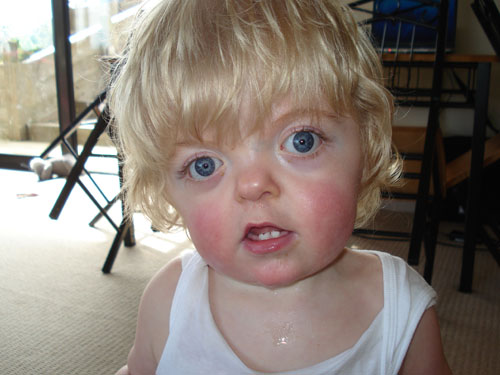 This page was created November 1, 2007