---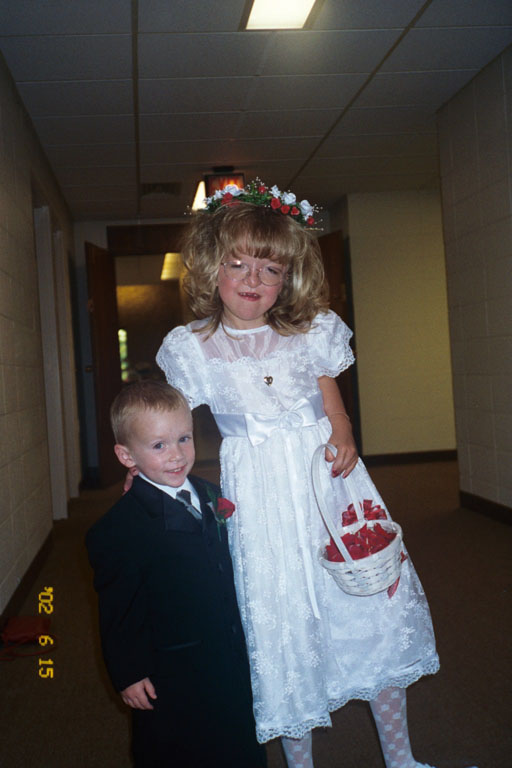 June 2002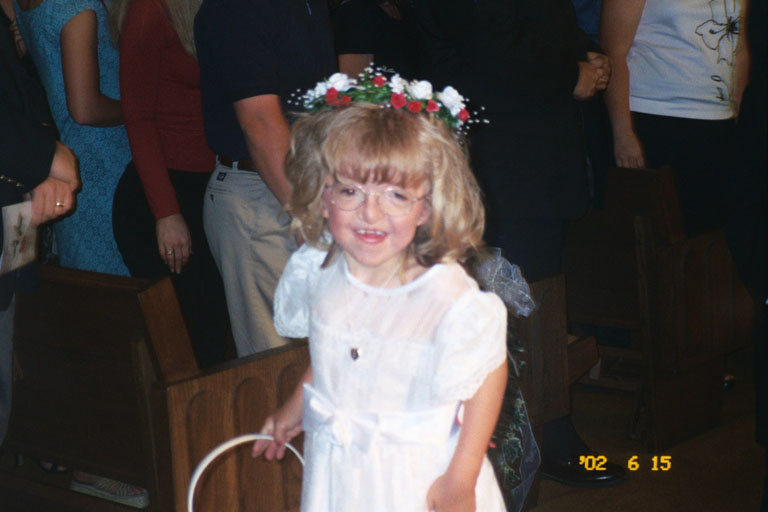 June 2002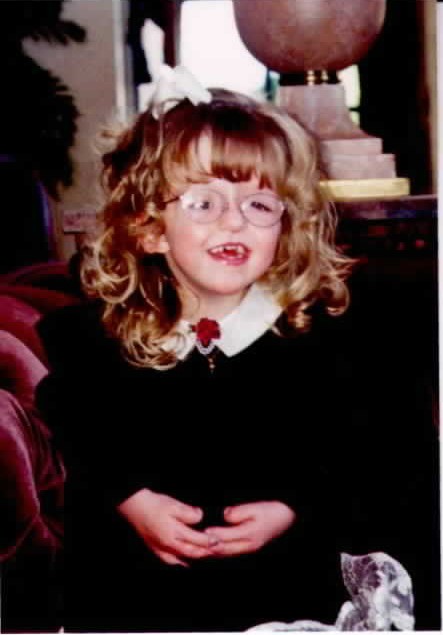 November 2000
---
Update as of December 15, 1997
Dear Don, Cathie and Elizabeth,
I'll try not to let my emotions overcome, as I couldn't contain them when I read Teeter's home page for the first time. I've been an Apert's mom now for 18 months. A part of my heart belongs to each and every Apert's parent I've read about on the Internet plus all others. I'd like to send a quick message to new Apert's parents..." You will survive. Give yourself time, give your baby time. Your love will grow stronger than you could ever imagine. "
My wonderful, supportive husband, Allen and I have two adorable children. Ethan, 5 yrs and our dear angel, Adrienne Leigh, 18 months. Our life was rather stereotypical until Jan. 16, 1995. With her syndrome a surprise, Adrienne was born at our local hospital in Davenport, Iowa. She was misdiagnosed, the Pediatrician on call said she had an enlarged heart and recommended she be transferred to the University of Iowa Hospitals and Clinic. The Ped. nurses dressed her in pink from head to toes, we baptized her dark head of curls then sent her on her way. An hour after her arrival, we received a call with her proper diagnoses. Myself, I went home 6 hours after her birth to prepare for my long stay at the University Hospitals in Iowa City. In the end her stay was mostly precautionary in nature. It did, however, give Allen and I an opportunity to learn and try to understand what went wrong genetically, the neurological risks, the optical risks, the respiratory risk, her orthopaedic risks, feeding risks and on & on & on. Risk was the operative word ... We left the University Hospital fully trained for what was ahead. Now, in retrospect, she beat the odds. With all of the insurmountable odds against us, Adrienne continues to forge ahead with no significant incidents to report.
Adrienne's cranial release was conducted 2 weeks shy of her 3rd month birthday. We have completed fourth hand surgeries and her palate correction. She walked alone at 17 months and talk true words at 18 months. She is very cautious/careful when walking and makes absolutely sure before every step due to the tightened rotator cuff in her shoulder joints. We have OT every week and continue to seek expert opinion to see if she can receive further relief from this through either more therapy or even surgery. Her cranial facial team is headed by Dr. Jeffery Marsh, Children's Hospital, St. Louis. Her hand surgeon is Dr. Roger Khouri, now at the Miami Hand Center, formerly from Washington University, St. Louis.
I have searched my soul over and over again and Allen and I continue to learn as much as we can. Your gift through the Internet has brought us more in touch with the reality of it all. How we DO need support, awareness, education, etc! In our case, our healing has come through Adrienne, herself. The past months have been surgery free and we have witnessed her strong will to be like any other child in the world. Clearly, she needs our strength and our support to build a strong foundation that is so necessary to keep her esteem high to handle lives struggles.
Thank you for the opportunity!!! Our best wishes go out to all of you. Remember, strength grows in numbers.
Kindest regards,
Ms. Mary J. Rus
E-Mail: mrus@ria-emh2.army.mil

---
Adrienne recovering from her first
finger release June '95 - 6 months old.
Adrienne, Aug. '95, o months old. Right in the middle of all
her hand surgeries and still wearing molding helmet.
She didn't let it stop her from her jungle gym. A
lways was a strong kicker!
Adrienne wearing cranial molding helmet.
We wore it full-time for one year exactly.
Sept. '95 - 9 months
Jan. '96 - 11 months old. Second and third web space
syndactly repair on right hand. Mommy loves her so...
I became quite an expert at cleaning and re-wrapping
her hands at this point.
16 months - Ethan & Adri on "Rascal"
16 months - Adrienne is so cute! Daddy's girl!
Still more work to do on her right fingers.
Scheduled in September or so of '96.
16 months. Just finished searching in the refrigerator.
Look at all her hair!
June '96 - Adrienne & Daddy at Lincoln Park Zoo in Chicago.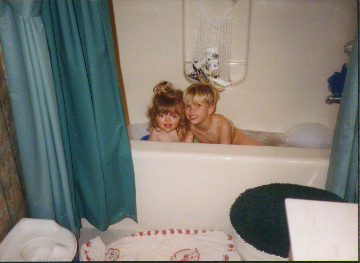 Hi friends! It has been over a year since we last wrote so we have much to share with our Apert's families. although I have read the Listserver daily, our busy summer has not allowed me to update Teeter's Page so here it goes...
Adrienne Leigh, now 2 1/2 years, has continued to progress positively in the past year. In November '96, she had further cosmetic work done on her left middle finger and had both ear tubes replaced as she outgrew her old ones. The winter and spring months brought lots of colds and sinus infections. Her breathing cleared up just as our cold, mid-western weather began to warm. This summer we have been free of any illness. We have observed our daughter sleeping peacefully without any snoring. We think natural facial growth has aided her breathing as well.
Adrienne continues weekly OT and speech therapy. Her vocabulary is in excess of 100 words with good word ending enuciation. We are still working hard to increase word combinations. She is in an in-home day care with 2 toddlers and 1 new born (whom she adores). She is stimulated with discovery toys, interactive play and music videos throughout her day. Her past time is spent riding her little tikes car, tricycle, sliding on slides, swinging and playing for extended periods of time with her big brother's Zeo Rangers. Her first love is Barney and friends with Arthur coming in a close second on our local BPS station.
Big brother, Ethan, has shake, rattled and rolled her on different occasions. He loves to wrestle and make his little sissy giggle from her toes. She's in love with her daddy (all boys in general) and has mommy twisted around her little finger.
Allen and I have resorted to fair discipline between both children. We've found Adrienne to recognize our latitude with her and are now tightening upon disciplining her behavior (no special treatment).
In summary, Miss Adrienne has taught us never to take life for granted, never to consider any day as "ordinary," to see things more clearly and enabled me to rise above life challenges. We are preparing for Adrienne's three-year evaluation to prepare her for preschool in fall of 1998. So far, our community, family, and friends' acceptance of her has been outstanding. We know we are not alone as no body ever told us life was easy. Our daughter WILL grow to become as outstanding as an adult as she is as a child.
May god bless you all and thank you for your hard work and diligence in bringing us together.


| | |
| --- | --- |
| | |
| Adrienne at 20 months | My princess bed |