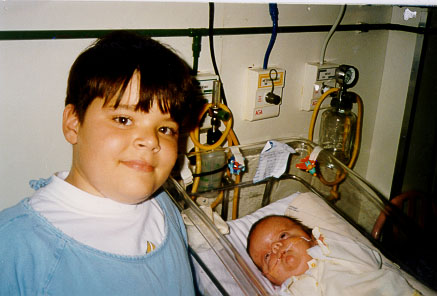 Moisés 1 1/2 months with his brother, Gabriel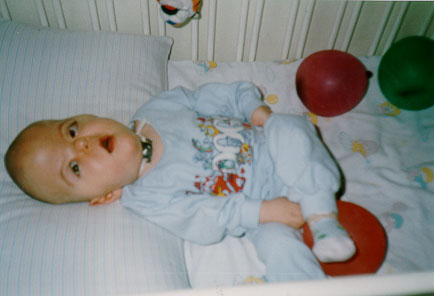 Moisés 1 year old, 6 months after cranial surgery

Moisés one year, ten months, very happy!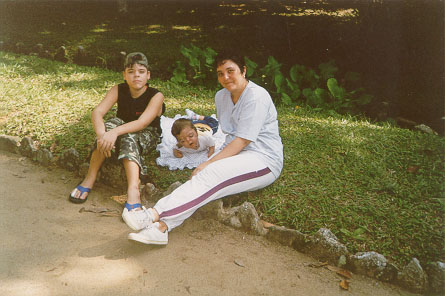 Moisés, age 2 years 2 months,
in the Botanic Garden with mom and brother Gabriel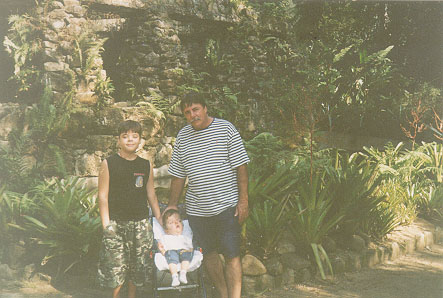 Moisés in the Botanic Garden with dad and brother Gabriel
In English:
Rio De Janeiro, 14 of December of 2000.

To our friends Cathie and Don Sears

Please, we are not strangers. I know that we do not know you personally, but due to my constant visits to Teeter's Page, I have you as good friends. Friends who, despite the distance, share the same experiences, the same pains, the same hopes.

Before any thing, I want that they know that this page was as a light in my life and the life of my family. To visit it and to take a walk for it are a pleasure who I repeat every day. With this, I felt will to see my son enters the friends of the Teeter. I wait in God to obtain this. But we go to the history of the Moisés.

My name is Rosângela, I am 37and am a teacher. My husband is João Carlos, is 54 and is a taxi driver. We have a son of 11 years called Gabriel. In 1997 we decide to expand the family. All my pregnancy was very healthful, I did not have any physical or emotional problems. I had 5 ultrasounds and only in the last one the doctor raised the possibility of the baby having some problem in the skull, however, I already was in 8th pregnancy month. With the accomplishment of more tests, we discovered that the baby was suffering due to oxygen, and we needed to proceed with the childbirth with all the urgency.

In day 10 of April of 1998 to the 11 hours and 02 minutes my treasure was born: MOISÉS. He went directly for the neonatal UTI presenting pneumonia, asphyxia, pulmonary hypertension and a strange appearance to the doctors, who did not know what it had. After some days, they called a geneticist to evaluate and he gave his diagnosis: Apert Syndrome.

Moisés was 66 days in the UTI. Saiu there with a gastrostomia and many doctors to consult.

Until today, Moisés already been hospitalized 8 times, being 2 for surgeries. Because of his respiratory problems, including atresia of coanas, he needed a tracheostomy. Moreover, as he has bronchitis, constant pneumonias, abundant secretion in the lungs, we only schedule his surgeries in the summer time where it is with the lung in better conditions. In this way, until today Moisés alone it made a surgery - the orbital advance frontal - with 1 year and 6 months.

Moisés also has physical, speech, and respiratory therapy (in addition to Apert, he has West Syndrome and cerebral paralysis), pneumologia and surgery buco maxilo face.

Although as many obstacles, Moisés is a smart, alive, curious child very, and he is developing step by step. Each conquest is a victory celebrated with much love and affection.

In our city, Moisés has many friends with Apert. We know a average of 13 children with ages varying of 3 the 21 years. In we always find them, we speak to the telephone, at last, we do not leave to keep contact.




Our objective for 2001 is the formation of a Brazilian Association of similar carriers of Apert Syndrome. To visualize its annual page and its meeting gave to me to more will and more force to fight so that this becomes reality.

We would like to be able to enter in contact with voices with more easier, however it has a detail that it makes it difficult the contact for the telephone or email: my knowledge of English are very small, what it hinders me to establish a conversation. This letter was written in Portuguese, my language, for this reason. If I will be able to send the next correspondences in my language, please inform me.

I am sending photos of the Moisés and my family so that vocês they can in knowing them. In briefing I will try to send photos of the friends of Moisés, also. It would very nice to see these enclosed photos in the page of the friends of the Teeter, however I did not understand as well as this the possible one. If vocês they will be able to make I I am thankful very. If it will not be possible, enter in contact with me explaining what I must make so that this if becomes possible.

I confess that I will be anxious for its reply, therefore has much time I have will to write the vocês.

" God blesses you and he keeps to you; He makes you to shine His face on you, has His mercy of you; God on you raises His face and he gives the peace to you." Numbers 6: 24-26

That you can be always taking care of your family is what desire of all heart. Until the next one!
ROSÃNGELA GOMES DA CUNHA
ESTRADA DO VIGÁRIO GERAL, NÚMERO 465 APARTAMENTO 403
VIGÁRIO GERAL - RIO DE JANEIRO - BRASIL
CEP: 21241-100
TELEFONE: 473.3280
3373.2263
E-MAIL: moisesapert@ig.com.br
rdgcunha@bol.com.br
This page was created March 15, 2001